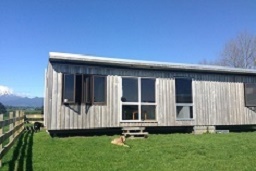 Stunning Private rural/Mountain views
Bach or holiday home, 2 Bedrooms, 1 Bath, (Sleeps 4)



Our beautiful self sufficient bach, set in relaxing rural surroundings with the view of our mountain and horses / cows in surrounding paddocks,with 5 minute drive to beaches ,walk way, lake,shopping centre and our amazing Pukekura park with seasonal light festival.Only 20 minute drive to the north side of Mount Taranaki visitors centre and 5 minutes drive to New Plymouth local surf beach Fitzroy. Bookabachlink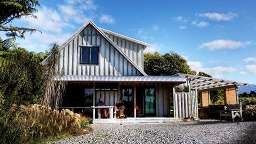 Brauhaus Bed & Breakfast
SH3, Egmont Village, Inglewood. Phone 06 752 2029
george@brauhaus.co.nz
Beautiful luxury accommodation complete with own brewery! A two storey cottage in Egmont Village beside a tranquil bush clad stream and uniterrupted views of Mt Egmont / Taranaki .
www.brauhaus.co.nz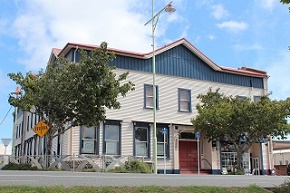 Fern Lodge
Fern Lodge is an iconic part of Inglewood's history offering traditional hotel rooms that are designed with comfort and convenience in mind; providing you a place to relax and recharge. The hotels elegant interior has been decorated to keep in line with the heritage of the building built in 1876, whilst boasting a modern twist.
The grand central staircase leads you to your accommodation for the night in one of our 17 hotel rooms with quality shared bathrooms, three of them complete with luxurious clawfoot baths. For guest convenience the Hotel offers a fully self-contained kitchen and lounge area with tea and coffee supplies.
Located in the central part of Inglewood township the Hotel is perfectly located and close to restaurants, takeaways, supermarket, shopping and TSB Bank.
Fern lodge
40 Matai Street
Inglewood
Phone: 06 756 7220
Email: fernlodge@outlook.com web: http://fernlodge.co.nz/
Forrestal Lodge & Healing Centre
23 Rimu Street, Inglewood. Accommodation, Function and Dining-Complex. Park like settings at our home away from home.Within 3 minutes walk to stadium, museum, live theatre and town amenities. Fully redecorated, new linen and furniture 2008. Phone Jeanette Wilson on 06 756 7242 or or visit the Forrestal Lodge website at http://www.jeanettewilson.com/
Private Healing Consultations with Jeanette In 2011 Jeanette established a centre for natural healing and & the training of natural healing therapies at Forrestal Lodge in Inglewood, Taranaki.Private consultations with Jeanette for healing can be made by emailing or phoning Forrestal Lodge. Jeanette works with people who are terminally ill in Taranaki and is occasionally able to see people further afield when her schedule allows. DISTANT HEALING may be suitable for you and you can email for more information about when Jeanette is likely to be in your area.
Hursthouse Heights B&B Farm Stay
344 Hursthouse Road, RD 9, Inglewood. Phone / fax (06) 7566449
A family environment with queen-size bed and 3 single beds, seperate bathroom and toilet. 7km to Inglewood, 9km to Bell Block. Awesome mountain and sea views - sunrises and sunsets.
Email: info@hursthouseheightsfarmstay.kiwi.nz
Visit our website: www.hursthouseheightsfarmstay.kiwi.nz
Inglebrook Villa & Gardens B&B
Lance and Trish Stephenson, 87 Rata St, Inglewood
Phone: (06)756 6062 Email inglebrook@orcon.net.nz Website www.inglebrook.co.nz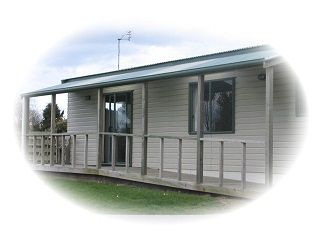 Puriri Farm Cottage
Have your own space amongst friendly farm animals and open pasture with all the comforts of home in this modern well equipped spacious family unit. Your friendly rural kiwi family as hosts 80 metres up the driveway. Ideally situated within Inglewood Township with shops and lovely cafes within easy walking distance. Close access to Mount Taranaki, National Toy museum, walking and biking tracks, beautiful gardens, and the shops, beaches, restaurants, walkways, pools etc… of New Plymouth.Our Cottage is fully self-contained with 1 queen bed and 1 single bed in the bedroom, and 1 comfortable foldout sofa in the Lounge. It is ideal for families.
Contact Robin on: enquiries@farmcottage.co.nz or phone: 0273228464
Or for more information or to check availability go to: http://www.bookabach.co.nz/4574
Sycamore Creek
Sycamore Creek Homestay, a member of the "Look after me" homestay network, situated at 1288 Richmond Road, RD 9, New Plymouth, Taranaki. Telephone 06 756 8861 or visit our website http://www.lookafterme.co.nz/accommodation/sycamore-creek and make a booking.
The Camphouse
Upper Egmont Road, Inglewood.
Phone 06 7560990 or email egmontvc@doc.govt.nz
Beautifully restored historic bunkhouse. 32 bunks in 4 rooms of 8. Full electrics including heating and hot showers. Adjacent to the North Egmont Visitors' Centre, Mt Egmont / Taranaki.
Vertical Horizon Adventure Centre, Everett Road.
Postal 558 Everett Road, RD8, Inglewood. Phone 756 8436. Opposite Everett Park at 572 Everett Road, sleeps 133, catered or self-catering available. Large Hall, separate dining, loads of activities. Enquiries welcome. Website
www.verticalhorizon.co.nz
Email
verticalhorizon@rolo.org.nz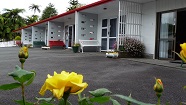 White Eagle Motel
Resident hosts: Jeanette & Peter Utiger Ph 06 756 8252
Inglewood township is a short walk away and has a supermarket and very good dining options, cafes and bars. Everything you need. The motel is set back from the road, in a garden setting, which has the advantage of being incredibly quiet and only 20 minutes from Mt Taranaki.
It has 7 ground floor units - 2x2 bedroom units, 3 x 1 bedroom units and 2 studios which were refurbished in 2012.Inspections welcome, just give us a call.
87 B Rata Street,Inglewood whiteeaglemotel@xtra.co.nz